This is a journey of finding yourself and how your loved ones see you in their eyes. Further, this can be online and carried forward to share, if you wish, to future generations. - See more at: http://joannfitz.blogspot.com.au/2013/09/the-book-of-me-written-by-you-topic-1.html#sthash.2TuO2bVu.dpuf
This is a journey of finding yourself and how your loved ones see you in their eyes. Further, this can be online and carried forward to share, if you wish, to future generations. - See more at: http://joannfitz.blogspot.com.au/2013/09/the-book-of-me-written-by-you-topic-1.html#sthash.2TuO2bVu.dpuf
The prompt for the week is:
What were their names?
Where were they from?
Were they related? – Cousins perhaps
Where were they born, another Country or state/area
Photos
What did they do?
Did you know them?
What was your relationship with them?
If you didn't know them have you researched about them?
Growing up, I saw many of my friends visit and be visited by their grandparents. I never gave it any thought to where mine were at that point. Its interesting how much we remember.


In 1956
My grandfather on my father's side was Matthew Schmitz. I was told that he was born in Germany. I
Linden, NJ
in 1935 and he was living with a wife and son at the age of about 29. He was a painter in a New York State Hospital. About 1945, he was in the
Army
do know that he had a residence in
Medical Corps
according to my father. I do know in 1946, according to the Price and Lee Co's City Directory, he was living at 46 South Water Street, Newburgh, NY. At this point they owned Riverview Bar and Grill, which they lived above. In 1949, he worked for C-PLMCo (which I haven't been able to find anything about) and he was still living at the same address with my grandmother. By 1954, he lived in Old Blooming Grove Turnpike in New York and was working as a painter. In 1956, he was working at
Stewart Air Force Base
as a painter, and still living at the same address. In 1958, he moved to Old South Plank Road and he was still at the base. In 1967, he died at
Castle Point, New York
which is a veteran's hospital. I was told he died of complications of diabetes.
Again, you can see by the gaps in years in the information above, is a blank space. Like my other grandfather, this was another subject that was really never talked about by my father. My grandmother did talk about how he used to drink. She would go around the apartment and pour the alcohol down the drain and he would run from the room and go into another room where he had more alcohol hidden and start to drink while giggling. When she told me this growing up, I thought it was cute. Now years later, I think how sad it is he thought that was a huge drinking game. My main question is was he always like this or was the military responsible for making him this way? I have many more questions to ask my father regarding this topic.
Her sister, Genvieve, but Janet looked very similar to this
My grandmother on my mother's side was Janet Jagodzinski. She was born on 10 May 1911 in
Pennsylvania
. Most of her childhood I'm not certain about due to not being able to find much on her. I know in 1935, she was married and living in on her father in law's dairy farm. In 1936, she had her first child. In 1951-1954, according to a business directory, they are listed as living there. I know shortly after this, she was committed to a mental hospital in by her husband. From what I've been lead to believe, this was due to going through the change (or menopause). Everyone in the family says that she has "emotional issues" and is known as such.
I have met this grandmother, which is my middle name, 3 times in my life. The first was in the institution, which she just sat there dazed and my mother went to talk to the nurses. The second time was to pick her up to spend a Thanksgiving at our house when I was about 8 or 9 (I think). That time, I sat next to her and she didn't say or do much throughout the day. I know sometimes she got a spark in her eyes when she looked at the kids (the younger kids - and my nieces and nephews - that were there). The last time was like the first time I described. Although, I was told to sit in the corner. Upon sitting in the corner, I could hear the nurses talking about my grandmother - about how nasty she is and how she broke some nurse's collarbone and arm. They were also discussing why her family was there. This is an issue in the family - no matter how many times my mother would give the nurse's contact information, they never used it. The next time we went to visit my grandmother had disappeared - vanished. Every now and then my mother did go back but the nurse's would not release any information even though my mother was next of kin for my grandmother.
I when I started the family history research, one thing that I did find on my search was that my grandmother had died in in September 1999. The sad part was we, my mother and I (until I married in 1997), lived within a 30 minutes drive of her. Even more disturbing was no one ever contacted my mother, who was her next of kin. We have no idea where she is buried or what she died of. I cannot find out because my mother does NOT want to know because she believes she is finally "at rest".
However, I plan on searching once my mother passes and I have access to the paperwork I need.
in 1956
My grandmother on my father's side was Genowefa (Genevieve) Wojtkowska. She was born 10 August 1910 in
Linden, NJ
A cigarette girl in a speakeasy
Jean & Charlie in Florida visiting Matt & family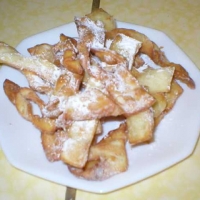 Kruschiki cookies
S